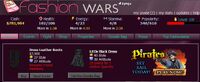 Main Screen
Edit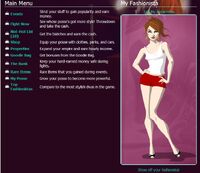 The Main Screen is the central hub of activity and gameplay. From the main screen you will be able to select:
Events - Strut your stuff to gain popularity and earn money.
Fight Now - See whose posse's got more style! Throwdown and take the cash.
Not-Hot List - Get the biatches and earn the cash.
Shop - Equip your posse with clothes, perks, and cars.
Properties - Expand your empire and earn hourly income.
Goodie Bag - Get bonuses from the Goodie Bag.
The Bank - Keep your hard-earned money safe during fights.
Rare Items - Rare Items that you gained during events.
My Posse - Grow your posse to become more powerful.
Top Fashionistas - Compare to the most stylish divas in the game.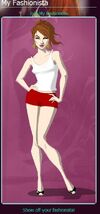 My Fashionista is the avatar or model of your character. By editing your fashionista, you can change her appearance, including her hair color, skin color, clothing choices, and hair styles.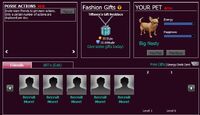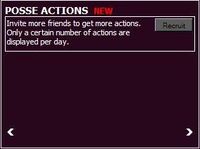 Posse Actions are actions that allow you to interact with the members of your posse or your friends. Posse Actions can include anything from inviting your friend to play the game with you, giving them an energy drink, taking care of their pet, or even giving them a not-so-friendly-slap.
Fashion Gifts are gifts, normally made by designers, that you can give to your friends. It is encouraged to give gifts to your friends because it greatly increases your odds of getting a gift back.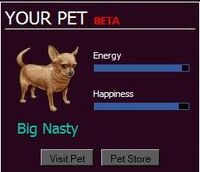 As everyone knows, a good fashionista would not be seen without having her very own pet. Pets are extremely valuable to a Fashionista in this game. Pets are useful in fights and also help you gain popularity. A fashionista would benefit from getting a pet early on in the game.

The friends list allows you to see how many of your friends are playing the game. It also gives you the option of selecting more people to increase the size of your posse.
Energy, Health, and Stamina Refills
Edit
Your energy, health, and stamina refills one point per every 5:00 minutes.
See also
Edit
Community content is available under
CC-BY-SA
unless otherwise noted.